Selected quality preloved pianos
Product detail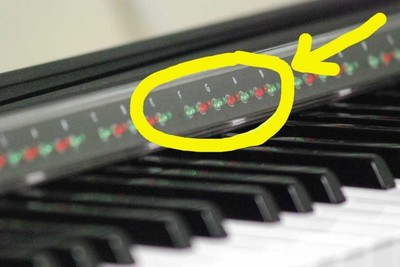 Learning tool for Steinway Baby Grand Upright and Williams Allegro and Overture
Current price
£169.00 Buy it now price £0.00
Bids
0, met reserve
Time left
15 days 3 hours
8 mins 32 secs
Seller (score) Feedback %
australian_industrial_products (682) 99.5%
Seller location
AURosanna, VIC
Ships to
Worldwide
Condition
Brand New - 1000
Description
What you are ordering is a NEW PIanoMaestro 48i piano learning device – the light strip that is sitting on top of the pictured digital piano (it works with ANY 88-key digital or acoustic piano)
Digital piano is NOT included.




To learn more about it, Google "PianoMaestro" and look at our videos, reviews and free downloads.
Introducing PianoMaestro - The easiest and most effective way to practice the piano.
100% Total and Complete Satisfaction Guarantee -- read details at bottom

Forget other piano courses where you stare at TV's and computer screens. PianoMaestro is a custom-made device that sits on your actual piano keyboard. It is like having a private piano teacher in your house 24/7!

That is right. YOU can learn to play ANY song, regardless of your piano playing ability.
Brand New Invention Revolutionizes the Way you Learn the Piano
New Device Cuts Learning Time in Half!
Twice the Fun to practice and No Fees for Piano Lessons
Incorporates the Best Teaching Features of Digital Pianos
Use it on ANY PIANO you Already Have (Even if it's Not Electronic!)
Displays the Sheet Music and Shows You Which Keys To Play
And the best part: It reads standard MIDI files!
Because the PianoMaestro reads standard MIDI files, you can learn to play practically ANYTHING. Here are some example songs that you can learn to play in days:
This is just a small sample of what you can learn to play. For a more complete list, visit our website. Thanks to the web, your options are practically limitless! The PianoMaestro is equally helpful for learning to play classical music (read below).
What is the PianoMaestro?
PianoMaestro is a portable electronic USB device for learning how to play the piano. The PianoMaestro® teaching system includes (1) a computer program that reads any standard MIDI files and displays the notes on your screen and (2) a ruler-like strip of lights that is placed on top of the black keys of any acoustic or digital piano. PianoMaestro®'s 48 lights correspond to the keys on your piano, indicating which keys to play at the right time.
You can study and follow the music score on your computer screen. With a few mouse clicks, you can adjust the playback speed and repeat a selection of music until you get it down.


What our customers are saying about the PianoMaestro
"Fantastic. PianoMaestro was a really smart investment for our child's music education"
- Laura Senate, New York
"Piano Maestro has been the answer" "I've always been interested in learning piano, although my musical aptitude has always been quite questionable. Piano Maestro has been the answer! Its intuitive approach allowed me to learn a few pieces quickly and made me very happy! I'm looking forward to being able to play more and more music I love!"
- Alberto Casetta, Treviso, Italy
"Piano Maestro is my perfect piano teacher and practice buddy!" "As a child, I played the violin and I attempted to play the piano. I could never train myself to use my left hand and right hand independently, so without a constant visual reminder to keep me disciplined during practice, I never learned. Piano Maestro is my perfect piano teacher and practice buddy! I can see where my hand/finger placement should be in real-time while I am playing, I can see the proper coordination between left and right hand, and I can see the synchronization with the sheet music. Now, I only wish that I had Piano Maestro when I was growing up!"
- Kara Byun, Hong Kong
"PianoMaestro helps me get over that hump" "Excellent product! When my practicing is going nowhere, the PianoMaestro helps me get over that hump. The ability to slow down and repeat passages has been extremely helpful."
- Ulysses Bilog, Melbourne, Australia
"This fantastic product will inspire your love of the piano for years to come." "A fabulous idea that combines technology with a love of music and the keyboard (in more ways than one)... it gives your child the chance to explore a whole new world of music in a very special way! Do you want to reignite a passion for the keyboard, piano or music in your child's flagging spirits? Are you looking for something to spur them on? At Daisy Chain we are so impressed with Piano Maestro! This very unique product is a must-have! If you grew up with the piano and it's one of your favourite instruments, then this will inspire you and your child to love it all over again! A dying art? Not anymore! Piano Maestro brings yesteryear into the 21st century in a very modern and user friendly way that will excite your musically inclined child."
- Daisy Chain at the Vine Blog
The media loves PianoMaestro too!
"...incredibly simple and - compared to the price of your piano --cheap."

"the gadget is available now, so go dust off that piano"
"Highly recommended!"

"For the price of a few piano lessons you will have a teaching device that would last you a lifetime and gives access to learning to play the piano to all the members of the family..."
| | |
| --- | --- |
| | "The PianoMaestro has the potential to help so many kids who are struggling with the piano..." |
| | |
| --- | --- |
| "You could of course try to learn the instrument using a tablet or smartphone app, but we're betting that it won't be anywhere as beneficial as learning on the real thing" | |
What are the benefits of a PianoMaestro?
Accomplish More
The PianoMaestro's software has powerful features to help you confidently master the pieces you have always dreamed of playing.
1. Watch the notes on the computer screen. Look for patterns.
2. Repeat difficult sections over and over until committed to muscle memory
3. Slow down the playback speed
4. Separate the left and right hands. Practice each hand separately
Students motivated by their accelerated progress will spend more time playing the piano.
Save Time
Owning a PianoMaestro is like having a piano teacher 24 hours a day, 7 days a week to show you how to play any piano piece.
Learning the notes of a new song - Phase 2 in the graph - is the most time consuming and frustrating part of learning to play the piano. Hours of practice can yield disappointing results. Many students give up. The PianoMaestro enables students to master new piano pieces more quickly and more efficiently by reducing the time required to learn the notes in a song. Students can then spend more valuable piano instructor time focusing on the artistry and interpretation of a piece. Students using the PianoMaestro are rewarded sooner with the ability to play the music they love.
Save Money
The PianoMaestro works with readily available computers running Windows. You can have the benefits of guide-lights for 1/20th the cost of purchasing a new digital piano with the guide-lights built in. Because a student can learn to play the notes faster with the aide of the PianoMaestro, the student can spend more valuable lesson time perfecting a piece.
The PianoMaestro is designed to add guide-light technology to the piano that you already own -- this includes all 88-key pianos and some smaller piano keyboards. Here is a partial list of pianos that will work with the PianoMaestro:
Alesis Cadenza digital pianos;
Baldwin baby grand; Baldwin uprights;
Casio AP220 AP-220 AP420 AP-420; Casio AP-620 AP620 digital piano; Casio CDP100 CDP-100; Casio Celvano AP-220 AP220 digital piano; Casio Privia PX-130 PX130 PX330 PX-330; Casio Privia PX3 PX-3 PX3BK digital piano; Casio PX110 PX-110 WK8000 WK-8000 PX-830BP ; Casio PX-130CSSP;
Fender Rhodes Mark II stage piano;
Kawai baby grand; Kawai CE200 CE-200 EP3 digital piano; Kawai MP10 MP-10 digital stage piano; Kawai upright;
Korg C-2000 LP350 LP-350 pianos; Korg SP100 SP-100 SP170S SP-170 SGproX ; Korg SP250 SP-250 SV1 SV-1 SV188 pianos; Kurzweil MarkPro TWOiS SP3X SP4 SP4-8 SP88X pianos;
Nord Piano Clavia Stage Piano;
Peavey DPM C8 Piano;
Roland EP90 EP-90 EP97 EP-97 pianos; Roland F90; Roland FP-4F FP-4FBK FP5 FP-5 FP-7 FP7 pianos; Roland FP7F-BK FP-8 FP8 pianos; Roland MKB 1000 RD-1000 RD1000 RD300GX RD300NX; Roland RD-700GX RD700GX RD700NX 700SX;
Steinway baby grand; Steinway upright;
Technics Digital Piano;
Williams Allegro and Overture pianos;
Yamaha Arius YDP 135R YDP181 YDPS31 YDP-S31; Yamaha baby grand; Yamaha CP1 CP-1 CP33 CP-33 pianos; Yamaha CP50 CP-50 CP5 CP-5 pianos; Yamaha DGX 500 DGX620 DGX-620 DGX-640 ; Yamaha F90; Yamaha NP30; Yamaha P155 P-155 P155B P-200 P200 digital pianos; Yamaha P95 P-95 P85 P-85; Yamaha upright; Yamaha YDP135R YDP141 YDP161 YDP223 Arius; Yamaha YDP-135R YDP-141 YDP-161 YDP-223 Arius; Yamaha YDPS31 YPG535 S90XS Modus F01 pianos; Yamaha YDP-S31 YPG-535 S90-XS pianos; Yamaha YPG 625
If your model is not listed, do not worry. Send us an email.
Thousands of Songs Available

The PianoMaestro reads standard MIDI files. PianoMaestro does not have its own proprietary data format. This means that there are thousands if not millions of songs available to download from the internet. The PianoMaestro comes with more than 250 songs from the masters:
Albeniz: España, Opus 165 (1890) – Prélude, Tango, Malagueña, Serenata, Capricho, Catalan, Zortzico, Suite española (1886) - Granada, Cataluña (Curranda), Sevilla, Cádiz (Saeta), Asturias (Leyenda), Aragon (Fantasia), Castilla (Seguidillas), Cuba (Notturno)
Bach: The Well-Tempered Clavier Part I, BWV 846-869 (1722) - Prelude and Fugue in C major BWV 846, Prelude and Fugue in C minor BWV 847, Prelude and Fugue in D major BWV 850
Balakirew: Islamej (Oriental fantasia) (1869)
Beethoven: Sonata No. 5 C minor, Opus 10/1 (1798), Sonata No. 8 C minor (Pathetique) , Opus 13 (1799), Sonata No. 11 Bb major, Opus 22 (1800), Sonata No. 14 C# minor (Moonlight) , Opus 27/2 (1801), Sonata No. 21 C major (Waldstein) , Opus 53 (1804), Sonata No. 23 F minor (Appassionata) , Opus 57 (1804), Sonata No. 26 Eb major (Les Adieux) , Opus 81a (1809), Fur Elise, Sonata No. 29 Bb major (Hammerklavier) , Opus 106 (1818)
Borodin: Petite Suite (1885) - In the monastery, Intermezzo, Mazurka, Réverie, Serenade, Nocturne
Brahms: Sonata C major, Opus 1 (1853), 7 Fantasia, Opus 116 (1892) - No. 2 Intermezzo, No. 5 Intermezzo, No. 6 Intermezzo, 4 Piano pieces, Opus 119 (1893), Rhapsodie
Burgmueller: Etudes, Opus 109 - The pearls, The Fountain, Thunderstorm
Chopin: 5 Mazurkas, Opus 7 (1831), Etudes, Opus 10 (1832) - No 1, No 5 Black Key, No 12 Revolutionary, Grande Valse Brilliante, Opus 18 (1831), Ballade G minor, Opus 23 (1835), Etudes, Opus 25 (1836), Nocturnes, Opus 27 (1835), Préludes, Opus 28 (1838), Scherzo Bb minor, Opus 31 (1837), 4 Mazurkas, Opus 33 (1838), Piano sonata No. 2 Bb minor, Opus 35 (1839), Polonaise Ab major, Opus 53 (1842), Fantaisie-Impromptu, Opus 66 (1834)
Debussy: Suite bergamasque (1905) – Prélude, Menuet, Clair de Lune, Passepied
Granados: Danzas españolas (1900) - No. 2 – Oriental, No. 3 – Zarabanda, No. 4 – Villanesca
Grieg: Lyric Pieces Book I, Opus 12 (1867) - No. 2 Valse, No. 3 Watchman's song, No. 4 Fairy Dance, Lyric Pieces Book II Opus 38 (1883), No. 4 Halling, Lyric Pieces Book III, Opus 43 (1886) - No. 1 Butterfly, No. 2 Solitary Traveller, No. 4 Little Bird, Lyric Pieces Book V, Opus 54 (1891) - No. 3 March of the Dwarfs, Lyric Pieces Book VIII, Opus 65 - No. 6 Wedding-day at Troldhaugen, Lyric Pieces Book X, Opus 71 (1901) - No. 3 Puck
Haydn: Piano Sonata in C major, Hoboken XVI:35 (1780), Piano Sonata in G major, Hoboken XVI:40 (1784)
Liszt: Reminiscences de Don Juan (Fantasia on Mozart's Don Giovanni) (1841), Love dreams (1850), Grandes Etudes de Paganini (1851), Études d'exécution transcendante (1851) - No. 4 Mazeppa, No. 5 Feux Follets, No. 8 - Wild Hunt, 19 Hungarian Rhapsodies (1885)
Mendelssohn: Songs without Words Book 2, Opus 30 (1834), Songs without Words Book 4, Opus 53 (1841), No. 5 - Folk song, Songs without Words Book 5, Opus 62 (1844) - No. 3 Funeral march, No. 4 Morning Song, No. 5 Venetian Gondola Song
Mozart: Sonata No. 8 D major, KV 311 (1777), Sonata No. 10 C major, KV 330 (1783), Sonata No. 11 A major (Alla Turca) , KV 331 (1783), Sonata No. 12 F major, KV 332 (1783), Sonata No. 13 Bb major, KV 333 (1783), Sonata No. 16 C major (Sonata facile) , KV 545 (1788), Sonata No. 17 Bb major, KV 570 (1789)
Mussorgsky: Pictures at an Exhibition (1874), Promenade Gnomus, Promenade Il vecchio Castello, Promenade The Tuileries, Bydlo, Promenade Ballet of the Unhatched Chickens, Samuel Goldenberg and Schmuyle, Promenade The Market Place of Limoges, Catacombae Con mortuis in lingua mortua, The Hut on Chicken's Legs (Baba-Yaga), The Great Gate of Kiev
Ravel: Jeux d'eau (1901), Miroirs (1905) – Noctuelles, Gaspard de la Nuit (1908) – Ondine, Le Gibet, Scarb
Schubert: Piano Sonata in D major, D 850, Opus 53 (1825), Fantasia C major (Wanderer) , D 760, Opus 15 (1822), 6 Moments musicaux, D 780, Opus 94 (1828), Piano Sonata in A minor, D 784, Opus 143 (1823), 4 Impromptus, D 899, Opus 90 (1827), 4 Impromptus, D 935, Opus posth. 142, Piano Sonata in Bb major, D 960 (1828)
Schumann: Abegg Variations, Opus 1 (1830) - Thema, Var.I, Var.II, Var.III, Finale alla Fantasia, Scenes from Childhood, Opus 15 (1838) - A Tale of Distant Lands, Curious Story, Blindman's Buff, Pleading Child, Perfect Happiness, Great Adventure, Reverie, By the Fire-side, On the Rocking Horse, Almost Too Serious, Hobgoblin, In Slumberland, The Poet speaks, Kreisleriana, Opus 16 (1838), Album for the young, Opus 68 (1848) - The happy Farmer, Knecht Ruprecht
Tchaikovsky: The Seasons, Opus 37a (1876) - January "At the Fireside", February "Carnival", March "Song of the Lark", April "Snowdrop", May "Starlight Nights", June "Barcarolle", July "Song of the Reaper", August "Harvest", September "The Hunt", October "Autumn Song", November "Troika Ride", December "Christmas"
The songs above are too difficult. Can PianoMaestro help me if I am a beginner?
If you are a beginner, you can also purchase Robyn Payne's book and DVD - Simply Piano.
More about Simply Piano (not included):
Simply Piano is a book and DVD set that provides a comprehensive introduction to the piano. Produced with the beginner in mind, Simply Piano includes a DVD with over an hour of structured piano lessons and an 80 page full-colour book.

Simply Piano covers essentials such as posture, hand position, finger independence, scales and chords through 21 exercises that progresses from popular classics to improvisation.

The PianoMaestro comes with selected MIDI files from the Simply Piano book and DVD.
Try PianoMaestro RISK FREE for 30 days!
Would you like to try this remarkable invention? Would you like to experience the joy of learning your favorite songs more quickly and easily than you ever could before, and avoid the time and expense of other methods? If so, here's how you can
try PianoMaestro without any risk at all: simply go ahead and order.
Try it out in the privacy of your own home, and see what a difference it makes! After that, if you're not 100% satisfied, simply ship it back to us within 30 days and we'll see to it that you get a complete refund of the full price of the product. You have
nothing to lose and a world full of beautiful music-making to gain.
Food for thought: Were you happy with the progress you made with your last three piano lessons? If not, were you able to get your money back? Try a PianoMaestro out today - you really have nothing to lose!
What is included?
PianoMaestro is available around the world, and price includes shipping.
Included in the price:
The PianoMaestro USB device
PianoMaestro MIDI reader software for PC or Mac via website download
Selected piano exercises from Robyn Payne for beginners (note: does not include book and DVD. Only selected midi files.)
More than 250 MIDI files from the masters (click here for list)
1.5 meter USB cable
Free Technical Support
Shipping with Tracking:
o UPS ground in USA
o Registered Post in Australia
o USPS international priority for International Orders. Additional duties may apply.

| | |
| --- | --- |
| Start price | £169.00 |
| Item has reserve price | false |
| Start time | 2013-05-28T17:45:45.000Z |
| End time | £169.00 |
| Listing type | FixedPriceItem |
Product insights for "Learning tool for Steinway Baby Grand Upright and Williams Allegro and Overture"
How this item and seller is performing
Item popularity - 17639 views, 7 views per day (Not popular), 2603 days on eBay, 0 bids, 3 sold, 12 available.
Seller quality - feedback score 682, 99.5 positive feedback (Good seller - check feedback to be sure),
From the same category
Upright Piano
Kemble Oxford Upright Piano
Scarlatti Child's Piano Accordion, Green
Chappell London Upright Piano
A Beautiful Neat Piano
Upright Overstrung Piano Schonberg